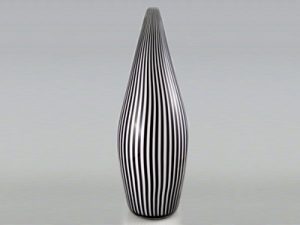 BLACK STRIPE VASE
Tall black stripes are fused to a white vase form. Optics are achieved from the long vertical lines on this vessel. This vase would be striking with a single pink blossom.
6"w x 16 1/2"h
$400.00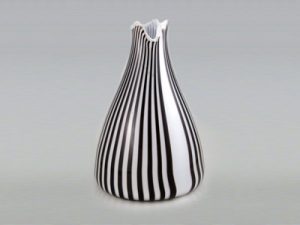 BLACK & WHITE VASE WITH RUFFLED RIM
This is a bold and modern design. A very large opaque glass vase in white with black stripes and a ruffled rim. The vase measures 9" across the bottom and 2" across the top. 12" tall and weighty at the base. It can be used for very tall flowers or branches.
9"w x 12"h
$300.00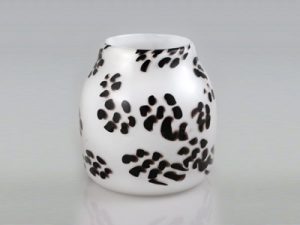 BAD KITTY VASE
What appears to be black kitty paw prints are actually pieces of black murrini. These paw prints are placed on white opaque glass to create this whimsical vessel.
6"w x 7"h
$95.00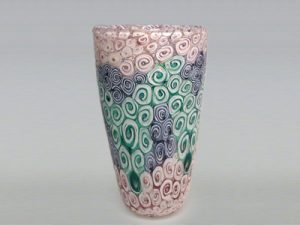 GREEN SPIRAL MURRINI VASE
Pink, purple, and green spiral murrini are fused together in a decorative pattern.
7"w x 13"h
$1,200.00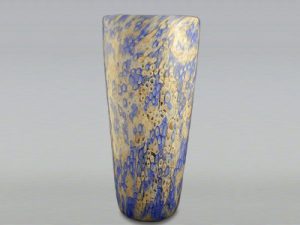 SAND AND SKY MURRINI VASE
Using an ancient technique of glassmaking, each colorful circle of glass is meticulously placed in order to create this complex design.
7"w x 22"h
$1,600.00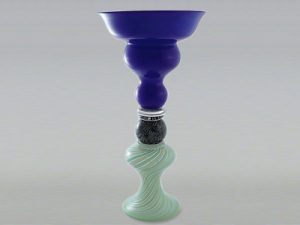 BLUE CHALICE
The base of this sculptural vessel is a pale green blown cane foot fused with a black and white cane marble and topped with a cobalt blue trumpet shape with a white interior.
10"w x 20"h
$300.00