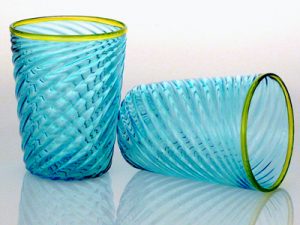 CARIBBEAN TUMBLER
These colorful tumblers are inspired by the blue waters of the Caribbean. The body of the glass is a transparent turquoise blue and complemented with a chartreuse lip. Enjoy a refreshing beverage on a sunny day with these island inspired glasses. Sold individually.
4"w x 6"h
$35.00 or $130.00 set (4)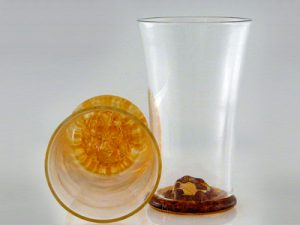 LION MEDALLION SCOTCH GLASS
These Scotch influenced glasses can stand up to the finest aged whiskey ever poured. A clear elegant flared cup is fused by heat to a topaz transparent lion base. Fill with your favorite beverage, and enjoy a cup of courage. Cheers! Sold individually.
2 1/2" x 4 1/2"
$80.00 or $300.00 set (4)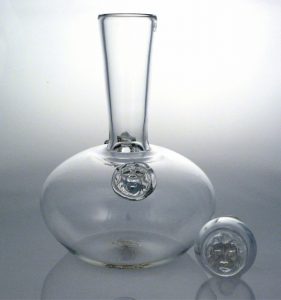 WINE & CORDIALS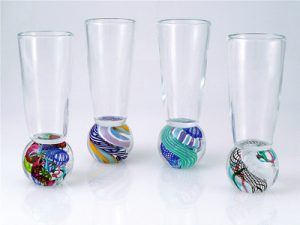 MARBLE CORDIAL GLASS
Perfect for Limoncello or Ice Wine, these versatile glasses hold any favorite concoction. Each marble is unique. Color and patterning will vary, as shown in the image. Sold individually.
1 3/4"w x 5"h
$70.00 each or $260.00 set (4)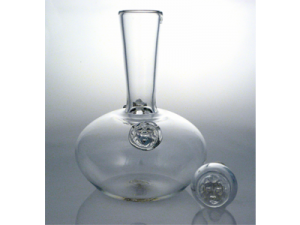 LION MEDALLION WINE DECANTER
Classic Wine Decanter holds a 750 ml bottle of wine. This classic shape is designed to maximize the flavor and bouquet of your favorite wine. The Lion mask stamp is present on this vessel to encourage bravery and remind people of Venice, the original port of call in the west. Includes a 3" matching hand *blown glass* stopper with Lion mask detail.
8"w x 11"h
$180.00